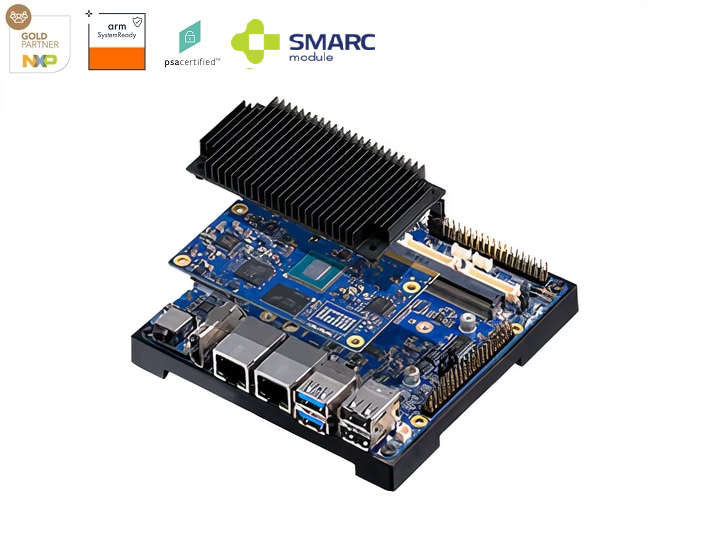 I-Pi SMARC IMX8M Plus
PRODUCT INFORMATION
Arm SystemReady IR-compliant SMARC reference development kit based on NXP i.MX 8M Plus SoC
Box including :
I-Pi SMARC IMX8M Plus assembly consisting of
I-Pi SMARC Plus carrier
LEC-IMX8MP SMARC module with NXP i.MX 8M Plus
and 2GB soldered memory and 32GB eMMC
110/220 VAC to 19VDC adapter (EU type-C)
Micro USB Cable
Specifications: 
NXP i.MX 8M Plus with Quad Cortex-A53, 2.3 TOPS Neural Processing Unit (optional), TrustZone technology, Vivante GC7000UL 3D Graphics, MIPI-DSI 4 lanes, HDMI, Camera MIPI-CSI 4 lanes + MIPI-CSI 2 lanes, 2x GbE LAN (with one TSN capable) , 2x PCIe x1 Gen3, 2x USB 3.0 + 3x USB 2.0 + 1x USB 2.0 OTG, 3x UART, 2x CAN 2.0B and or FD, 2x SPI, 14x GPIO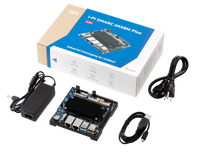 HOW IT WORKS
I-Pi SMARC IMX8M Plus consists of a simple carrier paired with a SMARC 2.1.1 Computer-on-Module. 

The module features NXP i.MX 8M Plus series SoC with an integrated up to 2.3 TOPS NPU, GPU, ISP and VPU, offering unmatched flexibility, rich connectivity and high scalability.

Modules are specifically designed for typical industrial embedded applications that require long life, high MTBF and strict revision control. 

Use popular off the shelve sensors and create prototypes or proof of concepts on short notice and impress your boss.
I-Pi SMARC IMX8M Plus Unboxing & Getting Started