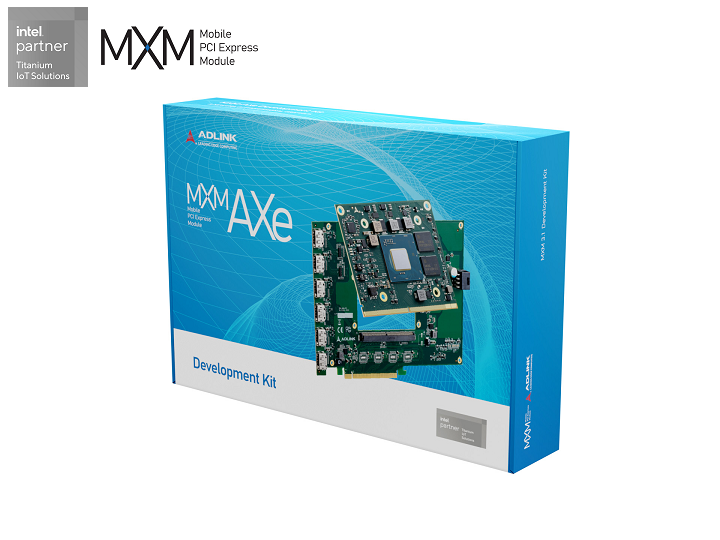 MXM AXe Dev Kit
PRODUCT INFORMATION
Graphics Solution Prototyping Kit based on Intel Arc
Box including:
Preassembled MXM-AXe development kit consisting of:
MXM-AXe (R3.1) Type A module based on Intel Arc GPU
Heatsink with fan
PCIe to MXM adapter card
Specifications:
MXM 3.1 Type A module based on Intel Arc GPU A370M/A350M with dedicated ray tracing units, 4GB GDDR6 memory, along with support for 4x Display output, PCIe Gen4 x8 input, and AV1 hardware acceleration.
PCIe-to-MXM adapter card is an MXM 3.1 Type A, Type B, Type B+ compatible adapter card for MXM-AXe modules to support DP output and PCIe Gen4 input.
Different kinds of display configuration could be supported based on specified settings. Please contact us via our I-Pi forum or ADLINK Ask an Expert.
A370M: 8 Xe cores, 8 Ray Tracing units, 128 Matrix Engines, 128 Vector Engines, 35W (50W configurable TGP)
A350M: 6 Xe cores, 6 Ray Tracing units, 96 Matrix Engines, 96 Vector Engines, 25W (35W configurable TGP)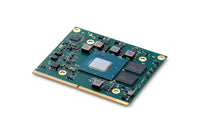 HOW IT WORKS
MXM-AXe Dev Kit consists of a MXM 3.1 Type A module preassembled with a fanned heatsink and a PCIe-to-MXM adapter card.
Packing hardware ray tracing, AI acceleration, and support for 4x 4K displays, the module enhances responsiveness, precision, and reliability for graphics-demanding, time-sensitive edge applications in sectors such as commercial / casino gaming, healthcare, media processing, and transportation.
The MXM-AXe leverages Intel's well-established graphics ecosystems, such as OpenVINO™ for AI and Intel® OneAPI management tools, that edge developers have enjoyed and relied on for years. More than a new line of GPUs, but one that makes your migration from integrated to discrete graphics seamless as ever.
Supporting Intel® Deep Link technology, MXM AXe can be paired with 12th and 13th Gen Intel Core processors for even elevated performance and power efficiency by automated workload allocation between integrated GPU, discrete GPU, and CPU